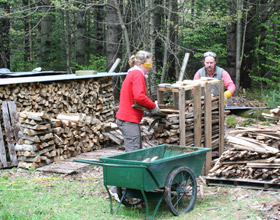 One of the things that the potters and I enjoy most when we gather for the firings is all of the cooking we do. We laugh at ourselves as we sit down to one great meal and immediately start talking about what we are going to have that evening or the next day. We still wax poetic about the time Liza's father brought a couple dozen lobsters for dinner or the time Hanako smoked a chicken over the kiln.  Even though most of our meals are more modest, we are lucky that most of the potters that have been here are seriously good cooks and we eat very well. Here are a couple of favorite recipes, rotated from time to time, that you might be interested in to feed your gang. If you have a suggestion for us, please send it along!
---
MEDITERRANEAN TOMATO & FISH SOUP
Ingredients
1 lg. onion, chopped
1 med. green pepper, chopped
1⁄4 c. olive oil
1 c. sliced, peeled carrots
1 c. summer squash, sliced & quartered
2 28 oz. cans diced tomatoes
6 c. chicken stock
1 c. dry white wine
4 garlic cloves, minced
2 tsp. dried basil
1 tsp. dried oregano
1 c. pasta spirals or shells
2 lb. firm white fish, such as haddock, cut into bite-sized chunks
big squeeze of lemon juice
2 c. fresh spinach, chopped
freshly grated parmesan cheese
Instructions
In a large, heavy kettle, saute onion and pepper in olive oil until soft. Add carrots, summer squash, tomatoes with juice, stock, wine, garlic and herbs. Bring to boil. Reduce heat to simmer and cook for 30 minutes. Bring to boil again. Add pasta and boil gently for 10 minutes. Reduce heat to low. Add fish and lemon. Cook until fish is done, 5 ­ 8 min., stirring in spinach during the last minute. Pass parmesan cheese at the table.
LAUREL'S BISCOTTI
David's wife Laurel usually sends her biscotti with him when he comes to the firings. David has a three hour drive to get here, and they usually arrive just in time for our morning snack!
Ingredients
8 oz. (at least) excellent bittersweet chocolate. (If you can only get semi sweet, add 1 oz. baking choc.)
2 c. dry roasted unsalted whole almonds
1/2 c. butter
2/3 c. sugar
4 eggs
2 tsp. anise extract
1/4 tsp. salt
1 1/2 tsp. vanilla
2 tsp. baking powder
4 c. flour
Instructions
Preheat oven to 325 degrees. Coarsely chop the almonds. Even though they are already roasted, toast them some more on a cookie sheet while your oven is preheating. Keep an eye on them and let them get a little more brown. Also put the chocolate in a smallish shallow woodfired bowl and place over the oven vent for melting.
Melt the butter. In a medium-large wood fired mixing bowl stir together butter, sugar, eggs, vanilla, salt and anise. Add almonds, 2 c. flour and baking powder and stir well. Add remaining flour, kneading a little at the end to mix it all in.
Form into 2' logs on a cookie sheet (I use a big pizza pan) and flatten a little. Bake for 1/2 hour at 325. Remove from oven and let cool slightly on a rack. Then slice diagonally in one inch slices. Use a really sharp bread knife for this as the cookie does crumble. Save the crumbs!
Arrange the slices on the sheet and put back in the oven to toast. Toast til light brown on the top side and then turn over to toast the other side. If you get impatient with this you can turn the oven up a little to 350. Toast your crumbs too, but watch them, they can burn!
Cool the perfectly toasted slices on a wire rack. The chocolate will be melted by now. Dip the cooled biscotti bottoms in the chocolate and place on waxed paper. Drizzle any leftover chocolate on your crumbs and over the top of the biscotti. Let cool overnight. Serve biscotti with your coffee for breakfast and crumbs with your ice cream for dinner (I mean dessert). Yum!
WAYNE'S EXCELLENT DRESSING
Ingredients
1⁄4 c. rice vinegar
1/8 c. sesame oil
1 tb. miso
1 tsp. honey
Instructions
Combine and enjoy!
CHICKEN MARBELLA
Chicken Marbella is a fairly well known recipe from The Silver Palate, but if you haven't come across it before, you are in for a treat.
Ingredients
4 chickens, 2 1⁄2 lbs. each, quartered (I usually use two or three big family size packages of chicken thighs and legs)
1 head of garlic, peeled and finely pureed (pressed is fine)
1⁄4 c. dried oregano
salt and pepper to taste
1⁄2 c. red wine vinegar
1⁄2 c. olive oil
1 c. pitted prunes
1⁄2 c. pitted Spanish green olives
1⁄2 c. capers with a bit of juice
6 bay leaves
1 c. brown sugar
1 c. white wine
1⁄4 c. parsley or cilantro, finely chopped
Instructions
In a large bowl (I use a spaghetti pot), combine chicken, garlic, oregano, pepper and salt to taste, vinegar, olive oil, prunes, olives, capers and juice, and bay leaves. Cover and let marinate, refrigerated, overnight. (The overnight marination is essential.)
Preheat oven to 350
Arrange chicken in a single layer in two large, shallow baking pans and spoon marinade over evenly. Sprinkle chicken pieces with brown sugar and pour wine around them.
Bake 1 hour or more, (I like dark meat chicken so I cook it longer) basting frequently with pan juices. Chicken is done when thigh pieces, pricked with a fork at their thickest, yield clear yellow (rather than pink) juice.
With a slotted spoon transfer chicken, prunes, olives and capers to a serving platter. Moisten with a few spoonfuls of pan juices and sprinkle generously with parsley or cilantro. Pass remaining pan juices in a sauceboat.
LIZA'S CHOCOLATE ZUCCHINI CAKE
Instructions & Ingredients
Preheat oven to 325. Grease and flour a 9 x 12 or loaf pan.
Make sour milk by adding 1⁄2 tbl. white vinegar to 1⁄2 c. milk and let it sit while you mix the other ingredients.
Mix the following dry ingredients together:
2 1⁄2 c. flour
4 tbl. cocoa powder
1⁄2 tsp. baking powder
1 tsp. baking soda
1 tsp. salt
1⁄2 tsp. cinnamon
1⁄2 tsp. ground cloves
Cream together:
1⁄2 c. butter
1⁄2 c. oil
1 3⁄4 c. sugar
Add:
2 eggs
1 tsp. vanilla
1⁄2 c. sour milk
Add dry ingredients and stir in 2 c. grated zucchini and 1⁄2 c. chocolate chips.
Bake for 40 – 45 min. Sprinkle with powdered sugar or frost with cream cheese frosting.
PULLED PORK SANDWICHES
This is a crock pot recipe and so easy, good for a side stoking day when all hands are on deck at the kiln.
Ingredients
1 c. ketchup
1 c. chili sauce
1⁄4 c. Dijon mustard
2 tbl. cider or rice vinegar
1 tbl. Worcestershire sauce
1⁄2 tsp. red pepper flakes
4 cloves garlic, minced
Big tablespoon honey
Salt
3 – 5 lb. pork roast (boneless is nice, but I have also used bone-in and removed the bones before serving)
Instructions
Combine sauce ingredients and pour over meat in the crock pot. Cook on low for 8 – 10 hours or high for 4 – 6 hours. I like to cook it until the meat is falling apart.
Serve on buttered rolls, with coleslaw and chips.
BECCA'S COFFEE CAKE
Ingredients
2 C white whole wheat flour
1 tsp baking powder
1/2 tsp salt
1 1/2 C sugar
2 eggs
1 tsp baking soda
1 C sour cream
1 tsp vanilla
1/2 C nuts
1/2 cinnamon
Instructions
Sift flour, baking powder, and salt together.
Cream butter with 1 cup of sugar.
Add eggs, beating well.
Add soda to sour cream; mix.
Add flour to creamedmixture alternately with sour cream.
Add vanilla.
Combine nuts, cinnamon, and 1/2 C sugar.
Pour half the batter into a greased and floured 9-inch spring-form pan. Sprinkle with half the nut mixture.
Repeat layers. Bake at 350 degrees for 40 to 45minutes, let cool, and enjoy!
JAM BARS OR TART
This is from Vegetarian Cooking for Everyone. The author calls it her desert to fall back on in a pinch. The firers now know how easy it is and are slightly less impressed than they used to be, but I still love to make it the morning they arrive and have it waiting on the table. I do it in a tart pan.
Ingredients
1⁄4 lb. (1/2 cup) unsalted butter
1⁄2 c. powdered sugar
1⁄2 c. packed light brown or white sugar
1 tsp. vanilla (almond extract is also good)
1 egg
1⁄2 tsp. baking powder
1⁄2 tsp. ground cinnamon
1 1⁄2 c. flour
1⁄4 tsp. salt
3⁄4 c. preserves, such as fig, raspberry or marmalade (I like cherry or blueberry)
3⁄4 c. chopped walnuts, pecans or rolled oats
Instructions
Preheat the oven to 350. Cream the butter with the sugars until light and fluffy. Add the vanilla and egg, beat until smooth, then add the dry ingredients except the nuts.
Set aside approx. 3⁄4 c. of the dough and press the rest evenly into an 8 x 10 inch baking pan or a 9 inch tart pan with a removable bottom.
Spread the preserves over the top. Mix the reserved dough with the nuts and crumble it over the top.
Bake until lightly browned on top, about 40 min. Let cool, then cut into squares. Or serve as a tart, cut into thin wedges.