Studio Sales & Events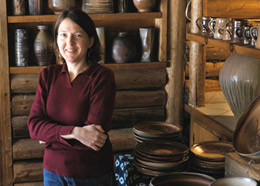 Twice a year, at the end of June and on Thanksgiving weekend, I hold my Kiln Opening Show and Sale. I time this event to follow shortly after the actual opening of the kiln and it is when customers have the largest and best selection of pots in the showroom to choose from. In fact, the week or so leading up to the show is one of the only times of the year that I am closed in order to give everyone a fair shot on the Saturday morning the show starts. This is a fun weekend, with food, a tour of the kiln, a chance to bump into friends, the garden in bloom in the spring, and of course, lots of pots!
This year's sale is a little later due to the New England Woodfire Conference. Please join me here at the studio Saturday and Sunday, July 8 & 9 for the next Show and Sale!
---
EVENTS
---
GALLERIES
You will find a nice selection of my pottery at the following galleries:
Trove
36A East Main St.
Searsport, ME 04974
207-548-4073
www.trovemaine.com
open year round on Rt. 1 in downtown Searsport
Maine Potters Market
376 Fore St.
Portland, ME 04101
207-774-1633
www.mainepottersmarket.com
open year round, in the heart of the Old Port